Deck Washing For Well-Kempt Outdoor Living Areas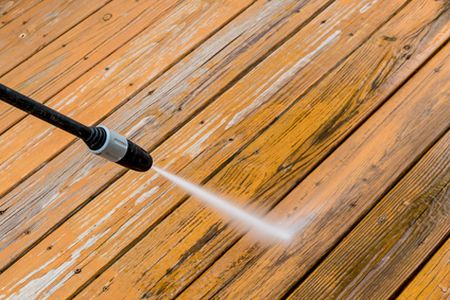 Fore's Home Services' excellent deck washing keeps your deck fresh and helps create a relaxing environment for your Spring Grove home! As the locals' choice for pressure washing for Spring Grove, we want our fellow Spring Grove residents to enjoy their homes to the fullest. That's why we work hard to help you curate the ultimate outdoor relaxation station for your home with a clean deck.
Keeping your deck clean throughout the year can be tricky, especially during the cold winter months when it goes mostly unused. When it comes to catching up on your deck's spring cleaning, many homeowners- understandably- want to avoid laboriously scrubbing down their deck. However, many opt to use their pressure washers to clean their deck instead, sometimes causing more harm than good- leaving behind pressure washing marks or even warping or cracking the boards!
That's because the wood- or composite- boards used in most decks aren't as firm as brick or concrete and can be more easily harmed by high-pressure washing. To avoid this risk, we use a more gentle technique for our deck washing service. Our soft washing technique lets us clean your deck with a light touch! With an eco-friendly, biodegradable cleaning detergent, we can destroy algae and mold growth and break up dirt and grime while still supporting a safe, non-toxic environment for your family, pets, and backyard!
If it's high time to refresh your deck, then don't wait another sec! Request a free quote by uploading your info and a few photos of your deck through our form online, or just call us up at 717-477-3030. Give your deck a mini-makeover in time for summer with Fore's Home Services!
Patio Cleaning Specialists - Ready To Help
Not everyone has the standard deck for an outdoor gathering space. If you have a concrete or paver patio, it's also important to give it a good annual washing to keep it from getting stained and slimy. Our pressure washing gets deep into hard surfaces like concrete and brick to scour out even the most tenacious stains and leave you with a spotless patio.
Don't forget to take our pressure washing beyond your patio. If you're interested in having us wash your patio, we recommend also scheduling a driveway washing and/or sidewalk cleaning as well, and getting all of your annual concrete cleaning taken care of at once! Contact us for a free estimate. We'd love to discuss a cleaning plan for your home today.
Fantastic Fence Washing
Our soft washing technique helps us do deck washing safely, allowing us to clean softwood areas and composite boards safely and with ease. If you're getting ready to freshen up your yard for the summer, don't stop at deck washing. Take our soft washing to your fences and give them the clean they deserve. Our fence washing extends your fence's lifespan, prevents decay, and gives them a manicured appearance that helps your backyard be a welcoming place for your family and friends.
CONTACT US TODAY FOR QUALITY PRESSURE WASHING IN SPRING GROVE!