First-Rate Pressure Washing Specialists Serving Hanover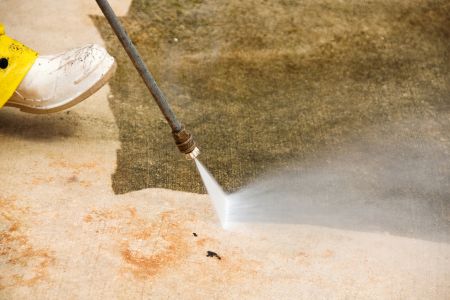 Help your Hanover home look its absolute best with Fore's Home Services' excellent pressure washing and soft washing services! From your roof down to your driveway, our professional pressure washing is perfect for giving your home a safe, quick, and comprehensive clean!
Your Hanover home should always be a clean and welcoming place for you and your family, but pollution and the elements can take their toll on your home's exteriors over time. Pressure washing can be a great solution for exterior messes, but it's important that you choose the right team for the job. An inexperienced or uncaring pressure washer can hurt your property with careless work!
Fore Home Services is a cut above the rest here in Hanover. We're a family-owned local company with a dedicated work ethos. We approach each home as if it was our own and clean it with that level of attention and care. We talk in-depth with you about your desired cleaning, walk around your property prior to our work to determine the safest and most effective approach, and work methodically to ensure that we don't leave a single unwashed spot!
With pressure washing to clean up hard surfaces like concrete and brick pavers and soft washing to delicately wash surfaces like vinyl sidings and asphalt shingles, we can provide your Hanover home with a safe and thorough cleaning at rates you can afford! If you'd like to learn a little more about what we can do for your home, request a free quote from us by filling out our online form or by calling us at 717-477-3030. Fore's Home Services is ready to make your home shine!
Helpful Hanover Pressure Washing Specialists
One benefit of choosing a professional pressure washing contractor to clean your home is their ability to safely wash areas of your home that are difficult for you to reach on your own. Roof cleaning is a good example. It's an important task, but getting up top and washing your roof is delicate, tricky, and dangerous.
That's where we can help. Our trained and experienced technicians work together and with sturdy safety equipment to ensure a safe approach to the job. With our commercial-grade soft washing equipment and biodegradable detergents, we can provide your roof with a gentle but effective washing that will totally eliminate harmful growths like algae and mold, along with any stains they leave behind.
No matter what area of your home you need to be washed, know that you've always got a professional in your corner to help you. When you need a hand cleaning those hard-to-reach spots on your home, call Fore's Home Services.
Top Hanover Gutter Cleaning Pros
Don't leave your gutters clogged or in poor condition! Clogged gutters and stopped-up downspouts leave your home vulnerable to water damage. If your gutters are starting to fill up with leaves, twigs, and other debris, call us in to safely and thoroughly empty them out and get them working in tip-top condition again. Plus, if you have tiger stripes or other ugly stains on your gutters, we offer gutter polishing and oxidization removal to clean them up! Let us help your gutters work hard and look great!
Recent Projects in Hanover
There are currently no reviews or testimonials; check back soon!
CONTACT US TODAY FOR QUALITY PRESSURE WASHING IN SPRING GROVE!