Paver Cleaning To Make The Most Of Your Hardscaped Areas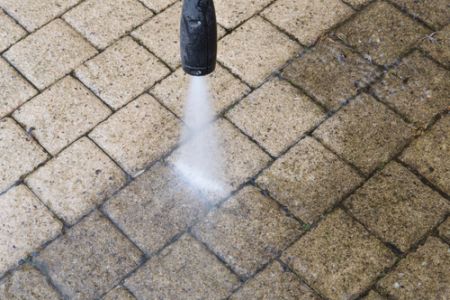 Brick pavers can give your home a distinguished rustic look and are an appealing alternative to concrete for many homeowners. When you want to get the best out of your brick paver surfaces for your Spring Grove home, keep them clean and extend their lifespan with Fore's Home Services paver cleaning! With the finest professionals in pressure washing for Spring Grove at your side, you can keep your brick strong, sturdy, and beautiful for years to come.
Washing Stone & Brick Pavers
Just like concrete areas, pavers need a good wash or two a year to ward off algae and mold and clean up other messes that can negatively affect their color or integrity. Brick, in particular, needs cleaning, as it is susceptible to mold damage. Mold that is allowed to permeate brick can cause it to crumble from the inside out. Sealing your pavers against this helps, as does having a professional paver cleaning done once or twice a year to nip mold growth in the bud.
Paver cleaning is ideal for both stone and brick surfaces. Aside from taking care of structural hazards like mold growth, it can clean up slipping hazards, preserve the original color of your pavers, and tidy up other troublesome substances like bacteria and pollen- keeping allergens and pathogens from building up around your property. Our pressure washing technique helps us thoroughly clean even the toughest surfaces, ensuring that we don't miss a single spot in our paver cleaning.
When you choose us to do your paver cleaning, you can count on our friendly and prompt service and an A+ spotless clean for your pavers. You can submit a request for a free estimate through our online form, or you can call and chat with us at 717-477-3030! Let us help your home look its most lovely and dignified today.
Concrete Care
Concrete needs cleaning just as much as paver surfaces to prevent serious staining and clean up corrosive chemical spills. Make sure you have a driveway washing and sidewalk cleaning done at least once a year to keep your concrete surfaces in the best shape. Our professional pressure washing service is perfect for delivering a spotless deep-clean for your concrete.
Do you have old stains in your concrete that have been resisting your attempts to clean them for years? Let us take a shot at them. Our commercial-grade pressure washers can pack a more serious punch than most home pressure washers. If your own attempts at pressure washing out concrete stains have been unsuccessful, we may be able to finally get the job done. Give us a call today and ask us how we can clean up your concrete!
CONTACT US TODAY FOR QUALITY PRESSURE WASHING IN SPRING GROVE!