Fore's Home Services Is East Berlin's Go-To Pressure Washing Services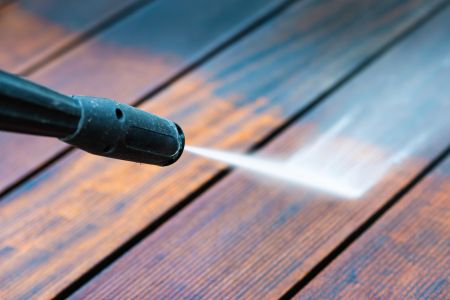 Keep your East Berlin home tidy, fresh, and clean with the outstanding pressure washing services of Fore's Home Services. Keeping up with your home's exterior cleaning can be a lot of hard work if you're doing it all on your own, but with our friendly and dependable help, you never have to struggle to keep your home clean!
Pressure washing is an excellent way to safely clean your East Berlin home. A lot of people balk at the amount of harsh chemicals used by many home cleaning services. Our cleaning, however, is eco-friendly and safe for your home. For some pressure washing projects, we just use plain water and let the high-PSI clean up stains and mess! Our soft washing services do utilize detergents, but the ones we use are biodegradable and rinse away cleanly once the job's done, making them a safe option to use for your home.
Our safe and eco-friendly cleaning services can safely wash any part of your home's exterior- and we mean it. From roof cleaning down to driveway washing and paver cleaning, we really can fully clean your home from top to bottom. If you need some top-quality pressure washing to clean any exterior part of your East Berlin home, take the next step and get in touch with us today. You can request a free estimate for any of our services by filling out the form online or calling us at 717-477-3030.
Pressure Washing To Beautify East Berlin Homes
Among the many benefits of pressure washing is its ability to quickly improve your home's curb appeal. The slow and steady buildup of dirt, grime, stains, and other mess can make your home look dull and dirty over time. When you want your home to look its best, whether you're getting it photo-ready or just to keep your castle clean, then touch it up with a little pressure washing! It's a fast and effective way to get rid of heavy stains and layers of grime!
If you want a quick cleanup for your East Berlin home, the top services we recommend are roof cleaning to clean up algae stains on shingles, house washing to keep your exterior walls bright, window cleaning to make your home dazzle, and driveway washing and sidewalk cleaning to keep that concrete pristine. Each home has its own specific needs, however. If you want to curate the ultimate cleaning plan for your home, call us and talk to one of our technicians today.
Safe And Swift East Berlin Gutter Cleaning Service
Before the rainy season hits or after the leaves have started coming down in autumn, have your gutters checked out by Fore's Home Services. We offer comprehensive gutter cleaning to keep your gutters and downspouts free of debris and blockages. We also offer cosmetic services like gutter polishing and oxidization removal to rid your gutters of streaky stains. Get those gutters in great shape with us!
There are currently no reviews or testimonials; check back soon!
CONTACT US TODAY FOR QUALITY PRESSURE WASHING IN SPRING GROVE!