Sidewalk Cleaning & Walking Path Washing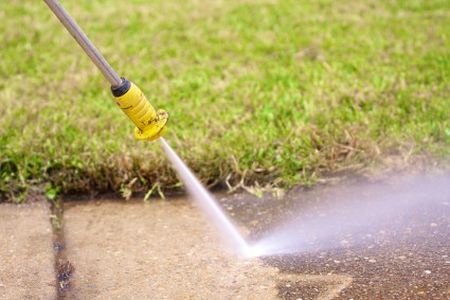 Have dirt and grime turned your sidewalks into a dark, murky mess? When you want to brighten up your Spring Grove home's walkways, tidy them up with sublime sidewalk cleaning courtesy of Fore's Home Services! No matter how dirty your sidewalks are, our pressure washing will have them looking good as new in no time.
Just like your driveway, your sidewalks are vulnerable to staining and deterioration from exposure to the elements. Dirt and grime can make it look ugly, algae and mold spread nasty spores and present slipping hazards, and exposure to corrosive substances such as road salt, food spills, and other messes can contribute to crumbling and cracking over time!
You don't have to be stuck with dirty sidewalks, though. With effective expert pressure washing, cleaning them is a breeze. Fore's Home Services makes sidewalk cleaning look easy! Our hard-hitting pressure washing scours out stains in the blink of an eye, and by treating your sidewalks with a biodegradable detergent, we can kill algae, mold, bacteria, and other microbial nuisances.
When you're looking for an expert pressure washer to help clean up the walkways around your home with sidewalk cleaning, make sure you choose the team for the finest pressure washing for Spring Grove. Here at Fore's Home Services, you can always count on friendly prompt service and a commitment to your 100% satisfaction- we don't stop until those sidewalks are spotless!
If you're ready to take the next step, request a free estimate for our sidewalk cleaning services! Upload an estimate request with some pictures of your property through the link on our website, or give us a call at 717-477-3030.
Walking Path Washing
Keeping your walking path beautiful and appealing in and of itself is important enough, but keeping it sturdy and hazard-free keeps it safe for pedestrians. Along with eliminating slipping hazards like algae and mold, we can take care of other sidewalk hazards like weeds growing between the joints in your walkways, preventing plant roots from weakening and cracking your concrete!
Paver Cleaning Services
Some homeowners opt for brick walkways for their homes! While brick pavers have a rustic charm to them, they're also somewhat more vulnerable to deterioration than concrete, and mold growth can cause the brick to crumble.
If you want to extend the lifespan of your brick paver surfaces and keep them looking attractive, give us a call. We offer a paver cleaning service that cleans up mold and algae on your brick to protect your pavers' integrity and keep them looking clean and inviting!
CONTACT US TODAY FOR QUALITY PRESSURE WASHING IN SPRING GROVE!