Leading Pressure Washing Specialists Serving Littlestown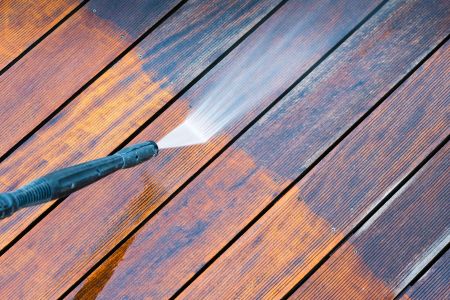 When your home needs a big clean in Littlestown, call on the pressure washing experts at Fore's Home Services! For years now, our family-owned company has been working hard to help our fellow locals keep their homes clean, healthy, and lovely. Keeping your home's exterior clean year-round can be a struggle, but it doesn't have to be when we can help!
Our pressure washing can give your property a major curb appeal boost like nothing else! When you want to make your home stand out among your Littlestown neighbors, we can help by removing years of grimy buildup, eliminating old stains, and restoring a level of color and brightness to your Littlestown home that dirt and grime have covered up.
In addition to traditional pressure washing, we also offer an extensive number of soft washing services to safely clean areas of your home that are vulnerable to high pressure. Window cleaning, house washing, deck washing, and more are all made safe and simple with our excellent soft washing. We use biodegradable detergents for an eco-friendly clean that won't leave behind harsh chemicals.
When you're looking for the best pressure washing team in Littlestown to give your home the quality cleaning it deserves, you can always depend on Fore's Home Services to treat you right. We're committed to your 100% satisfaction! If you're interested, request a free quote either by submitting your info and some photos of the area in question to our online form or by simply calling us at 717-477-3030. Either way, we can't wait to treat your home to an A+ cleaning!
Pressure Washing For Lovely Littlestown Homes
If you've been plagued by lasting stains in your concrete or brick paver services, give Fore's Home Services a call! Scrubbing and hosing down these hard surfaces may not be able to penetrate all the surface porous where stains are trapped, but pressure washing fully flushes out each pore and crevice to break down and wash away resistant stains. We can greatly reduce or even eliminate the appearance of serious staining with a few pressure washing treatments. Call and discuss your cleaning concerns with our technicians today, and we'll develop the best approach to get your home's surfaces spotless!
Number One Gutter Cleaning Experts In Littlestown
Gutters- they do so much to keep your home safe from water damage, but cleaning them on your own can be a total nightmare! Don't waste time and energy putting your safety on the line cleaning out your gutters. When your gutters are in need of an expert clean, we're here to help. From debris removal to cosmetic restoral, we've got everything we need to perfect your gutters in no time flat.
Latest Projects
There are currently no reviews or testimonials; check back soon!
CONTACT US TODAY FOR QUALITY PRESSURE WASHING IN SPRING GROVE!