Fore's Home Services: Red Lion's Superior Pressure Washing Service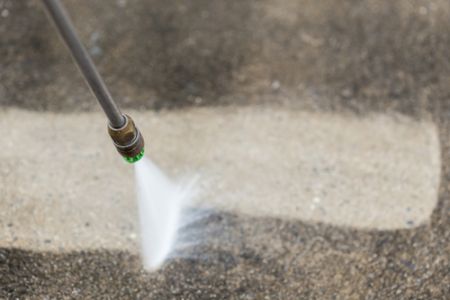 Fore's Home Services wants to help you perfect your Red Lion home's curb appeal with our helpful pressure washing services! Keeping your home clean and sanitary doesn't have to be a hassle. No matter if you need your shingles cleaned, windows washed, or driveways de-stained, we've got your home covered top to bottom with our sublime pressure washing and soft washing services!
When you choose Fore's Home Services to take care of your Red Lion home, you can depend on
Prompt responses to your questions and concerns
Friendly and transparent service
Trained and experienced technicians
Top-quality commercial-grade equipment and eco-friendly cleaning detergents
Careful, methodical work that treats your property with care and ensures that we don't miss a spot!
We strive to provide a level of dedication and care that our competitors in Red Lion simply can't beat. By striving for 100% customer satisfaction on each and every job, we give you and your home the luxury treatment- we settle for nothing less than perfection!
If you're ready to give your Red Lion home the luxury treatment, let Fore's Home Services take care of you. Get a free quote for any of our services by filling out our form on our website or giving us a ring at 717-477-3030. We can't wait to turn your home into your personal castle!
Red Lion's First Choice For Pressure Washing
One goal we aim for in our business is to make homeowners' lives a little easier by taking some of their home maintenance worries out of their hands. While some homeowners may choose to do small pressure washing projects on their own, some more complicated jobs like roof cleaning and gutter cleaning call are tricky and dangerous- not worth the risk of a DIY approach.
When you need help cleaning the hard-to-reach parts of your home or finally tackling those stubborn stains that have been plaguing your property for years, we'd be glad to help. With our experience and resources, there's no job too tricky for us. It would be our honor to help you get your home spotless!
Top-Notch Gutter Cleaning For Red Lion
Dreading your upcoming annual gutter cleaning? Trust us, you're not alone. Few homeowners enjoy the stressful and exhausting process of gutter cleaning, and the risk of falling off of a ladder doing it is a serious health hazard! However, those gutters can't stay uncleaned either, else your home will be left vulnerable to rainwater damage!
Don't stress though- we're Red Lion's local solution to your gutter cleaning woes. When you need help unclogging gunked-up gutters, we'd be glad to lend a hand. Plus, with gutter polishing and oxidization removal, we can also remove those streaky tiger stripe stains that have marked your gutters for years! This year, give yourself a break and leave your gutter cleaning to us.
There are currently no reviews or testimonials; check back soon!
CONTACT US TODAY FOR QUALITY PRESSURE WASHING IN SPRING GROVE!