Driveway Washing For Nicely Cleaned Approaches To Your Residential Property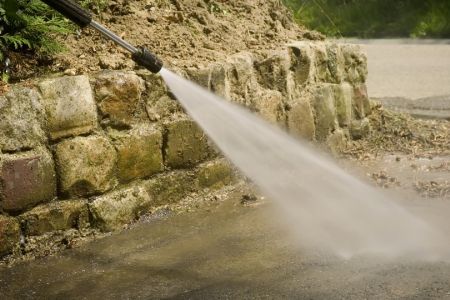 Don't let a dirty driveway dull your Spring Grove home- clean it up with a top-of-the-line driveway washing from Fore's Home Service! The porous surface of your driveway's concrete holds on to all types of nasty contamination, from dirt ground in by tires and shoes to automotive fluids, paint, and other artificial substances. When this mess turns your driveway stained and murky, only a hard-hitting pressure washing can restore its appearance!
Concrete Pad Cleaning
Driveway washing is an excellent solution to eliminating nasty old stains and just brightening the look of your driveway overall, but the beneficial effects of driveway washing also go beneath the surface.
Your driveway is regularly exposed to corrosive substances such as motor oil, brake fluid, and tar, and these substances can weaken your concrete over time, contributing to cracks and other damage in your driveway. Our driveway washing, however, goes deep into the surface of your driveway, not only reducing the appearance of stains but washing out the corrosive substances that cause them, too.
Our driveway washing not only makes your driveway look better, but it also keeps it structurally sound- now that's a win-win! If you're ready to have us take your driveway to the next level, request a free estimate online or give us a call at 717-477-3030. Our technicians would be glad to deliver this best pressure washing for Spring Grove straight to your driveway!
Concrete Care Beyond Your Driveway
Driveway washing is important to keep your driveway attractive and safe from deterioration, but your driveway isn't the only concrete area around your home that needs a little TLC from time to time. The sidewalks and walkways around your home are just as vulnerable to staining and deterioration from exposure to the elements, and unchecked algae and mold growth on them can become slipping hazards!
If you're thinking about having us clean up your driveway, consider pairing it with our sidewalk cleaning as well. A full tuneup of your home's concrete surfaces will help your home look better overall, keep your concrete sturdy, and clean up any slipping hazards.
Brick Paver Cleaning
Not every home has concrete driveways or sidewalks. Are these areas of your home composed of brick instead of concrete? No problem- our paver cleaning service will tidy them right up in no time flat. Brick needs just as much, if not more, cleaning than concrete, so caring for your paver surfaces is crucial for preserving its longevity. If you need help cleaning up your pavers, give us a call today!
CONTACT US TODAY FOR QUALITY PRESSURE WASHING IN SPRING GROVE!