First-Class Pressure Washing Company Serving Shrewsberry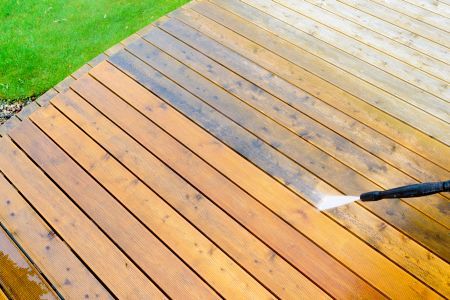 Make sure your Shrewsberry home sparkles and shines with the expert pressure washing work of Fore's Home Services! Our fantastic home cleaning services are sure to improve your curb appeal and extend your exterior surfaces' lifespans, keeping your home beautiful and strong all year long!
We're proud to treat our fellow Shrewsberry reference to a fantastic roster of pressure washing and soft washing services to take some of your home maintenance struggles off your hands. Our services are reliable, efficient, eco-friendly, and affordable. With pressure washing to scour stains out of solid surfaces and soft washing to clean up the more delicate areas such as your roof and windows, there's no part of your home's exterior that we can't get brilliantly clean!
We put the customer first at Fore's Home Services. We treat your property as we would treat our own homes which is why we always aim for 100% customer satisfaction- we don't deliver anything less than the best. So if you want to treat your home to the absolute best pressure washing in Shrewsberry, then take the next step and get in touch with us today. You can request a free estimate for any of our fantastic cleaning services by either filling out a request form on our website or by giving us a call at 717-477-3030!
Sublime Shrewsberry Pressure Washing Pros
When summer rolls around here in Shrewsberry, it's a perfect time to have guests over for BBQs, pool parties, 4th of July and Memorial Day celebrations, and much more! Make sure that your home is ready for the summer with a quick clean-up from Fore's Home Services.
Algae and mildew tend to grow rampantly throughout the summer due to the combination of heat and humidity. Tackle these growths before they present a problem and start to cause stains! With house washing and roof cleaning, you can ensure that your house stays stain-free throughout the summer! And if you want to help your backyard look its best in time for guests, then make sure you spruce it up with a little deck washing and fence washing!
Shrewsberry's Go-To Gutter Cleaning Team
Gunked-up gutters giving you grief? Nothing is quite as frustrating as attempting to clean out your gutters on your own. It's exhausting, it's time-consuming and it's unsafe! However, not cleaning them isn't an option either- without clean and properly working gutters, your home is vulnerable to water damage, pests, and even a weakened or cracked foundation!
Don't struggle your way through DIY gutter washing ever again. This year, when it comes time to take care of your gutters, count on us instead. We'd be glad to fully clean and optimize your gutter system, as well as provide cosmetic restoral services like gutter polishing and oxidization removal to make ugly gutter stains a thing of the past.
There are currently no reviews or testimonials; check back soon!
CONTACT US TODAY FOR QUALITY PRESSURE WASHING IN SPRING GROVE!