Let Gutter Cleaning Pros Take An Item Off Your To-Do List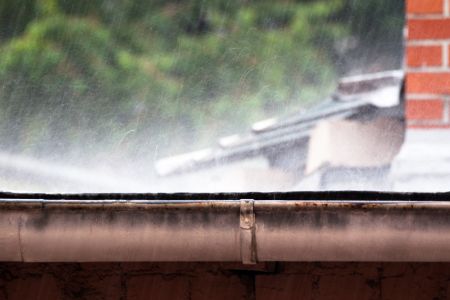 When gutter cleaning season comes around to Spring Grove this year, instead of getting out the ladder and gloves, take the load off and call Fore's Home Services instead. Gutter maintenance doesn't have to be stressful or unsafe when we're on the job. We'd be glad to clean your gutters inside and out!
Gutters are one of your home's first lines of defense against rainwater damage. Without working gutters, your home is vulnerable to exterior water damage, roof leaks, and even a sunken or cracked foundation! That's why it's so crucial every year to make sure your gutters are free of debris and damage, so they can continue to protect your home.
We recommend clients clean up their gutters twice a year- once during the spring to clear up winter debris and prepare for the spring showers, and once in the later fall to clear out fallen leaves and twigs. Understandably, though, it's a chore many homeowners dread. It's hard, messy work, and many homeowners have been warned of the serious danger of falling while doing their gutter cleaning!
There's no need to put yourself through that stress. The safe and efficient solution is simple- call us instead. We offer excellent gutter cleaning services with a focus on maximizing their performance while improving their curb appeal. We remove debris from your gutters, take care of small repairs for minor damage, and overall get those gutters cleaned inside and out.
So if you're ready to save yourself a lot of time and stress this year, put your gutters in the capable hands of Fore's Home Services, the top team for pressure washing for Spring Grove. Request a free estimate from us through our website, or simply give us a call at 717-477-3030 today. This year, let us check gutter cleaning off of your to-do list for you!
Downspout Washing
When it comes to gutter cleaning, it's important that we not only take care of visible debris but also debris we can't see as well. No matter how clean your gutters are, if there's a serious stoppage in one of your downspouts, your whole gutter system is compromised.
To ensure that this isn't a problem, we wash your downspouts as well in our gutter cleaning process. Using pressure washing, we can send a high-pressure spray through your downspouts that will knock out any trapped debris in there. We don't stop working on your gutters until we know that they're fully clean and clear!
Cosmetic Gutter Cleaning
Bare-bones gutter cleaning should ensure that your gutters are at least capable of doing their job- but why stop there? Streaky "tiger stripes" and dull drippy stains on your gutters can decrease your home's curb appeal. Luckily, there's a way to clean them up.
Beyond the standard basic gutter cleaning we offer, we also offer cosmetic services designed to help your gutters look their best. With gutter polishing and oxidization removal, we can get rid of both the distinctive "tiger stripe" streaks and the overall buildup of grime and tar to make your gutters look bright, white, and clean! If you truly want your gutters to be fully cleaned inside and out, ask about our gutter polishing and oxidization removal services.
Roof Care
Having a healthy roof supports your gutter system and vice versa. When you're planning on having your gutters cleaned, consider booking us for a roof cleaning as well. We'll soft wash away algae, moss, and mildew and take care of debris we find trapped on your roof. With both your roof and gutters expertly cleaned, you can be safe knowing that the top of your home is safe and secure.
CONTACT US TODAY FOR QUALITY PRESSURE WASHING IN SPRING GROVE!