First-Class Pressure Washing Company in Gettysburg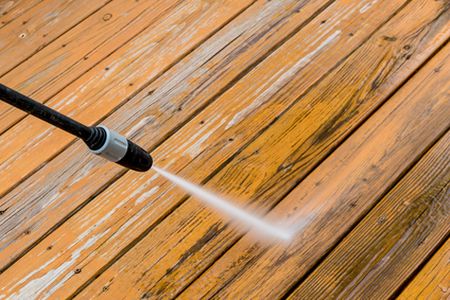 Treat your home with the care and excellence it deserves- when you're looking for an expert home pressure washing service in Gettysburg, give Fore's Home Services a ring! We're a small, local family-owned company, and we believe in treating each of our client's properties as if they were our own. We don't settle for anything less than spotless pressure washing work and 100% satisfaction from our clients.
Your Gettysburg home protects you and your family through steamy summers, heavy rain, and winter snowstorms. Unfortunately for your home, though, the changing seasons and the elements bring all kinds of mess: algae, mold, pollen, dust, grime... we could go on. Without cleaning, your home gets dull and stained, its exterior surfaces are exposed to deteriorating pollution, and harmful substances like pollen and mold spores are allowed to collect around your home.
Treat your home to a little bit of TLC. Pressure washing your home's exterior even once or twice a year optimizes its appearance, extends its lifespan, and eliminates harmful allergens or pathogens that can present health issues for your family. Your Gettysburg home should be your castle- and with expert pressure washing and soft washing, we can achieve that goal!
Whether you need a pressure washing service like paver cleaning or some soft washing work like house washing- or a bit of both- know that you've got the Gettysburg pressure washing superheroes on your side! Get a free estimate for any of our services either by filling out our online form or giving us a ring at 717-477-3030. We can't wait to serve you!
The Gettysburg Pressure Washing Pros Answer: What's The Difference Between Pressure Washing And Soft Washing
If you've never heard the term "soft washing" before, you may be confused by our mention of it. What sets soft washing apart from pressure washing?
Ultimately, while pressure washing uses force to clean up stains and can potentially utilize pressures of over 3000 PSI, soft washing is the option we use when using high pressure for cleaning isn't safe. Soft washing jobs usually use pressures under 1000 PSI, letting a cleaning detergent break down and eliminate stains and harmful substances such as mold and algae instead of blasting a high-pressure spray at the mess. Our soft washing cleaning solutions are biodegradable and don't leave behind harsh residue, making them a safe option for your home!
Whether we use soft washing or pressure washing on your home depends on what particular job we're doing. If you ever have any questions or concerns about our work, don't hesitate to ask one of our technicians! We're always glad to answer your questions!
Great Gutter Cleaning For Gettysburg Homes
When you're ticking off items on your to-do list, don't forget to get your gutters taken care of. If you're one of the many homeowners who struggle to get their gutters safely cleaned, we'd be glad to help. DIY gutter cleaning is exhausting, complicated, and dangerous, but with our experienced technicians and commercial-grade equipment, we'll have your gutters in tip-top shape in no time flat!
From the basic gutter and downspout debris removal to cosmetic services like gutter polishing and oxidization removal, we're your one-stop shop for all things gutter cleaning!
There are currently no reviews or testimonials; check back soon!
CONTACT US TODAY FOR QUALITY PRESSURE WASHING IN SPRING GROVE!