Dover's Top-Rated Pressure Washing Services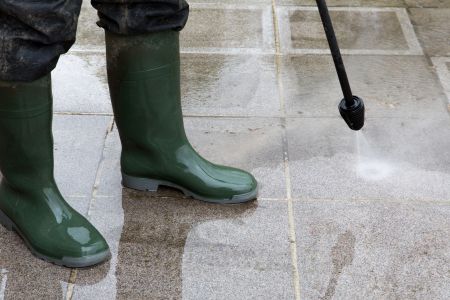 Protect your Dover home's exterior and perfect its curb appeal with fantastic pressure washing work from Fore's Home Services! As a small local company, we want to keep our nearby communities beautiful and appealing by offering homeowners a safe, affordable, and easy way to beautify their homes. That's why we strive to deliver our excellent work and commitment to 100% satisfaction to our clients throughout Dover!
Pressure washing is a fast way to clean up all kinds of stains, mess, and grimy buildup all over your property. No need to spend hours scrubbing at surfaces or dousing your property with heavy toxic chemical soaks when pressure washing- a fast, safe, and eco-friendly cleaning alternative is easily available. We offer our services at reasonable rates so that you don't have to dig deep into your pockets for an excellent home cleaning.
Need a cleaning service that's too delicate for traditional pressure washing? That's no problem for us. With soft washing, we can safely and gently clean even the most fragile surfaces around your Dover home- making it a perfect technique for fence washing, window cleaning, and more. Plus, the cleaning detergents we use for our soft washing services are biodegradable, getting the job thoroughly done while being gentle on the environment and safe to use on your home.
Ready to give your Dover home the best washing of its life? Then it's time to get in touch with us and take the next steps. Request a free estimate through our online form, or simply call 717-477-3030 and talk to one of our technicians. Treat your home to the best pressure washing in Dover with Fore's Home Services!
Dependable Pressure Washing In Dover
Aside from being quick and eco-friendly, what are some of the other benefits of pressure washing? It turns out, there's plenty. All in all, for the level of thorough cleaning they provide, pressure washing and soft washing are simply the best ways to give your home the cleaning it needs.
Pressure washing can:
Improve Your Home's Curb Appeal
Increase Your Property Value
Protect Your Exteriors And Avoid Repairs By Washing Out Corrosive Contaminants
Kill Harmful Growths Like Algae And Mold
Brighten Your Exteriors
Eliminate Old Stains
And much, much more. There's very little pressure washing can't do for your home! Check out photos and videos of our work to see the results for yourself, and feel free to speak with a technician about any questions you have about our services.
Great Gutter Cleaning For Dover Homes
You must get your gutters cleaned every year! Gutter cleaning keeps your home safe from rainwater damage, protecting your whole house from the roof to the foundation. We recommend most homeowners have their gutters cleaned twice annually- once in the spring and once in the fall.
If you need an expert hand cleaning your gutters, we'd be glad to help. Our helpful and hardworking team will thoroughly clean your gutters and downspouts and ensure that they're in excellent working condition. If you're interested in cosmetic restoral services to get rid of ugly gutter stains and give your home a little bump to its curb appeal, we offer gutter polishing and oxidization removal as well. Whatever kind of care you're interested in for your gutters, your wish is our command!
There are currently no reviews or testimonials; check back soon!
CONTACT US TODAY FOR QUALITY PRESSURE WASHING IN SPRING GROVE!