How To Pick The Perfect Pressure Washer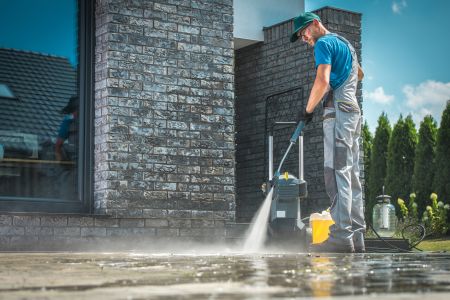 Your house is a special place for you and your family- it's home! You take pride in keeping it clean and inviting, decorating it, and turning it into a comfortable abode for you and your family to thrive. When you need to clean your home's exteriors, though, it's important to choose someone that will treat your home with the care and respect it deserves. Here are a few things we recommend homeowners look out for when choosing a professional pressure washing technician to wash their home!
Read Their Reviews
This might seem obvious, but it stands repeating: when you're vetting a company for the first time, it's a great idea to check out what previous clients have to say about them. Check out their reviews on Google, Backdoor, and similar websites. Do they do good work? Are the majority of their customers happy with their work? What did the technician do for them? These testimonials will paint a picture of what the company is like and how they treat their clients.
When Available, Check Out Photos Of Their Work
There's no better way to gauge a company's quality of work than by seeing it first hand. Many pressure washing contractors' websites will include a gallery of their previous work, with photos and videos showing "before" and "after" their cleaning. It'll give you a good visual reference of what the company is capable of and what that work might look like on your own home.
Ask The Tough Questions
Don't leave yourself in the dark. Many homeowners are reluctant to ask their prospective pressure washing technicians about their work. However, you need to stay informed so that you know not only that you can get the exact services you're looking for but that you can depend on a high standard of safety and professionalism. Sometimes these questions can be answered by an FAQ page or by looking at the offered list of services, but if you have more questions, it's worth calling and asking a technician. Any reputable company will be open and forthcoming with its answers.
Here are some major points we recommend prospective buyers hit on when choosing a pressure washing professional:
What services do they offer?
Is their cleaning eco-friendly / safe for my property
Are they fully insured? What is their warranty like?
What experience do their technicians have?
What are the rates for the services you're interested in? (It's always a good idea to request a free quote).
Find these answers to these questions, as well as any other you may have, and you'll put together a pretty good picture of what the company in question can offer you.
Armed with this knowledge, you're ready to choose a pressure washing contractor for your home. With that in mind, however, may we suggest ourselves? Fore's Home Services boasts an outstanding reputation in the community, fully licensed and insured professionals with tons of experience, and a devotion to safety and customer satisfaction. We hold up to scrutiny based on the standards we've recommended here, so feel free to peruse our website and lay your questions on us- we'd be glad to answer them.
If you'd like to speak with one of our technicians or request a free estimate, give us a call at 717-477-3030 today. If you like what you have to hear from us, then we know you'll love the work we'll provide to your home. From roof cleaning to paver cleaning and everywhere in between, our pressure washing and soft washing services will have your home sparkling from top to bottom.
CONTACT US TODAY FOR QUALITY PRESSURE WASHING IN SPRING GROVE!